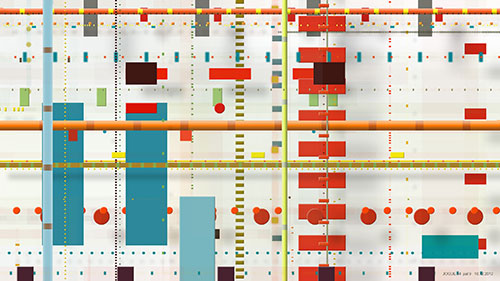 Image Generators is a series of computer-animations generated by artificial intelligence.
Images are generated instantaneously by a special program in real-time. Unlike the pre-recorded sequences in videos and movies, these animated images are autonomous, spontaneous and endless. Every image is unique and never to return.
Image Generatorsis also a model for the creative process, where random functions within hierarchical structures create a new type of image. The images are abstract. While reflecting on the nature of abstraction in painting, Infinite Image moves well beyond the possibilities of the conventional canvas. By piling successive layers of compositions on each other, the program produces impressions of living abstractions evolving through space and time.
The images resemble each other because the program parameters and random variables are fixed, However, each image possesses its own chance combination of forms, colors, and sound to explore the opposites of order and chaos as they combine in unexpected and surprisingly mediating compositions.
A computer program is expected to be self-contained, to run logically and to produce predictable results.
My programs also use controlled commands, but beyond that they open windows to the unpredictable. They are scripted to provide possibilities and liberties for artworks to arise.
Each program has a determined order as well as a determined structure of unpredictability. Thus an animation keeps its significant stile, while its single images diversify in form, color and composition.
Image Generators is a computer-model simulating the artistic image conception and shows how spontaneous decisions within the framework of systematic structure and order can produce artworks. It is also a comment on abstract painting and composition.